What is the source to determine the sound quality of the amplifier? Answer may be found by performing a design under the same conditions as MC cartridge development of Real Stereo generator system.
If you look at (x,y,z) from the three dimensions of sound, amplifier follows that system acting on only amplification y (level). And I can say that the essential characteristics of z (time) and x (frequency) should not be altered at all even depending on the amplification of y. It means that you can output sound as the original without changing quality of the input audio signal if an amplifier is such an ideal one.
In practice, however, the characteristics of the time axis z that can not be measured has the property of easily altered in particular according to the circuit configuration of the amplifier and how to use of each part as well as Real Stereo generator system.
Premium Artisan has completed over a long period of time after being studied and measured all sources of deterioration of the time axis z characteristics. It has the same time response for all over the range from low-end to high-end in any amplification degree and besides the same response in amplification circuit between the left and right channels too.
Enjoy the great sound of the original which has been recorded in the record, by Premium Artisan !
CR type RIAA Equalizer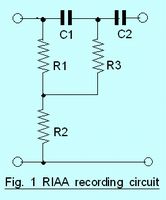 Artisan employs a simple but mostappropriate CR type RIAA equalizercircuit. Figure 1 shows RIAA record-ing circuit. As shown therein it hasto be noticed that this circuit is comprised of CR configuration, asthere is no necessity to employ othertype of equalizer such as LCR or NF type.
For precise reproduction of time information in musical elements,restoration is required to be made under the condition equal to original sound through CR type circuit. Because, music reproduction to natural sound equal to the reality is made best only by correctly reproducing time factor.
Noiseless Power Supply and Rectifier Circuits
Artisan works with 9 pcs. of NiMH batteries in order to avoid normal power circuit noises. So the minute signals from a MC cartridge can be clearly amplified in the circuit. In addition, the Artisan is equipped with 2 types of stabilizedrectifier circuits. One drives the linear amplification stage, andanother equalizer stage. Thanks to these, extremely stable operationand noise-free amplification with wide dynamic range are secured.
2 types of Inputs, MC1 and MC2
Premium Artisan accepts both of MC phono cartridges at respective input connectors.
100% Playback Circuit
In order to playback the sound information of an MC cartridgein 100% fidelity, Artisan has a simple but special amplification circuit. Normally each electric part has its own time domain,and it gives unbalanced sound as the result. So, ZYX had to correct these each time domain to the perfect one throughour own circuit. For example, we never use all resistors andcapacitors with normal way. (patent pending)
Electrically Skeleton Wooden Box
A metallic shielded box makes the sound signals disturbed by some eddy currents occurred on the shielding surfaces.The Artisan has no metallic surface around the circuitry. It enables you to listen to the effect in the fastest response in the sound of MC cartridge.
Technical Data
Input Impedance
100Ω
Gain
62dB /MC1,MC2 (1kHz)
Signal-to-Noise ratio
95dB
THD
<0.1%(1kHz)
Frequency Response
2Hz - 500kHz±1dB (liner)
RIAA character
±0.2dB (20Hz~20kHz)
Output impedance
47kΩ
Channel Balance
0db adjusted (1kHz)
Channel Separation
>100dB (1kHz)
Input
2×RCA (MC1, MC2)
Output
1×RCA
Power consumption
1.2W
Battery
9 pcs of NiMH 200AAH(1.2V 2000mAh)
AC Adapter
Input: 100~240V 50/60Hz 0.3A
Output: DC 12V 1A
Dimensions(W×H×D)
154×66×192mm
Net Weight
675gm
Finish
gold