ZYX OMEGA are built in combination with all utmost grade materials to straightly deliver audio signals as they were generated. With ZYX OMEGA you can feel the original analog sound never experienced before.
Lapis lazuli Balancing Weight

A spherical object fixed to the front nose of ZYX OMEGA is a balancing weight to accord the sweet spot of the cartridge body and the gravity point of vibration system. Having checked up materials and repeated audio monitoring, a nonmetal Lapis lazuli ball having hardness 5.0, specific gravity 2.5, diameter 8mm, and weight about 1 gram is put in at the most appropriate position to form the best cartridge structure. The Labis Lazuli ball used in OMEGA's other advantage is centroid control. Due to its composition blended of a few kinds of sodalite having spherical shape, vibrating wave flown from the north pole of the ball is absorbed in the crystal architecture mingled inside, and vibrating wave running down the ball surface is finally cancelled at the south pole of the ball.
15 items in generator
ZYX only succeeded in development of a MC cartridge which does reproduce original stereo sound with a perfect sound balance between the left and right channel.
2 Layer Laminate Armatures
We made the armature structure have double layers, facing each other with opposite polarity, namely one laminate to face N-polarity and the other S- forming mutually reversed phase positions in order to short-circuit and simultaneously dissolve both eddy-currents generated in each armature.
K18 Gold Solid Terminals
Maximum quality 18-karat solid gold matches sapphire terminal board and gets rid of sound coloration unlike conventional plated terminals. Those are apt to create coloration against subtle output signal in micro ampere order due to battery effect between heterogeneous metals.
Sapphire Ternimal Board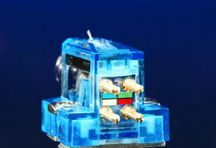 This non-metal mineral is hard next to diamond, and has been employed as OMEGA's and DIAMOND's terminal board to lock up output terminal pins and statically holds the unit against any sorts of extraneous vibrations.
Technical Data


(red letters : XH, SH, GH High output Model)

Type
Moving Coil (Dynamic)
"REAL STEREO" Generator System
Cryogenic Treatment
Temperature: -196 ℃ (-320оF)
Output Voltage
0.24mV

(0.48mV)

(3.54cm/sec, 1kHz)
Frequency Response
±1dB
10 Hz - 100 kHz
20 Hz - 20 kHz
Channel Separation
> 30dB 〔 1kHz 〕
Channel Balance
< 0.5dB 〔 1kHz 〕
Recommended Tracking Force
2.0gm 〔 20 ゜C-25 ゜C 〕
Tracking Force Range
1.7gm - 3.0gm
Trackablity
> 60μm

| | |
| --- | --- |
| EQ Compliance | horizontal |
| | vertical |

15×10-6cm/dyne
12×10-6cm/dyne
Internal Impedance
4.0 Ω

(8.0 Ω)

Load Impedance
> 100Ω

| | |
| --- | --- |
| Coil Wire | X type |
| | S type |
| | G type |

6N Crystal Copper φ.035mm/CRYO
5N Silver φ 0.035mm/CRYO
5N Gold φ 0.035mm/CRYO
Cantilever Material
Boron solid φ 0.30mm
Stylus
Micro-Ridge Solid Diamond 0.07mm
Contact Radius, Life Time
3μm×60μm, 2000Hour/2.0gm
Output Terminals
φ1.25mm K18 Solid Gold 〔 EIA 〕
Terminal Board
Pure Sapphire Plate
Front Sub Weight
Lapis lazuli ball φ8mm, 1.2gm
Dimensions
W (Width) : 16.8mm
L (Length) Body / with Terminals : 25.0mm / 29.2mm
H (Height) : 16.5mm
Net Weight
7.8gm (TB2 attached)
ZYX OMEGA Mono
Technical Data
Type
Monaural Moving Coil (Dynamic)
"REAL STEREO" Generator System
Cryogenic Treatment
Temperature: -196 ℃ (-320оF)
Output Voltage
1.0mV (5.0cm/sec, 1kHz)
Frequency Response
±1dB
10 Hz - 25 kHz
20 Hz - 18 kHz
Recommended Tracking Force
2.5gm 〔20゜C-25゜C〕
Tracking Force Range
2.0gm - 3.5gm
Trackablity
> 60μm

| | |
| --- | --- |
| EQ Compliance | horizontal |
| | vertical |

12×10-6cm/dyne
12×10-6cm/dyne
Internal Impedance
10Ω
Load Impedance
> 100Ω

| | |
| --- | --- |
| Coil Wire | X type |
| | S type |
| | G type |

6N Crystal Copper φ.035mm/CRYO
5N Silver φ 0.035mm/CRYO
5N Gold φ 0.035mm/CRYO
Cantilever Material
AlMg5 tube φ0.45/φ0.3mm
Stylus
Spherical Solid Diamond □0.1mm
Contact Radius, Life Time
1.0 mil , 1000hour/2.5gm
Output Terminals
1.25mm K18 Solid Gold 〔EIA〕
Terminal Board
Pure Sapphire Plate
Front Sub Weight
Lapis lazuli ball φ8mm, 1.2gm
Dimensions
W (Width) : 16.8mm
L (Length) Body / with Terminals : 25.0mm / 29.2mm
H (Height) : 16.5mm
Net Weight
7.8gm (TB2 mounted)