R100 FUJI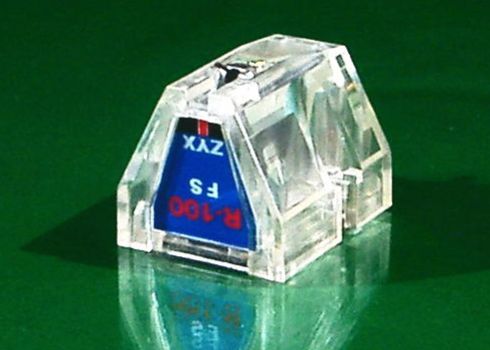 This model has a perfect magnetic circuit that is improved from it of YATRA MKⅡ. It gives you extremely even sound balance at both channels and extremely symmetrical sound that is just like symmetrical Fuji Mountain. So the sound is too stable and magnificent. R-100FS has pure silver wires at both channels for the first time in R-100 series.
Such as brilliant silver snow covered the top of Fuji Mt. makes him more holy, silver wires can playback all of sound signals smoothly and transparently with extremely wide range.
R-100FX has systematically crystallized copper wires for the first time in the world. The wire has been developed by the help of two companies in Y2002.
The sound has no coloration at all and is so pure and natural that you will be able to use R-100FX as the standard sound for your audio system.
Technical Data


(red letters : XH, SH High output Model)

Type
Moving Coil (Dynamic)
"REAL STEREO" Generator System
Output Voltage
0.24mV

(0.48mV)

(3.54cm/sec, 1kHz)
Frequency Response
±1dB
10 Hz - 80 kHz
20 Hz - 20 kHz
Channel Separation
> 30dB 〔 1kHz 〕
Channel Balance
< 0.5dB 〔 1kHz 〕
Recommended Tracking Force
2.0gm 〔 20 ゜C-25 ゜C 〕
Tracking Force Range
1.7gm - 3.0gm
Trackablity
> 60μm

| | |
| --- | --- |
| EQ Compliance | horizontal |
| | vertical |

15×10-6cm/dyne
12×10-6cm/dyne
Internal Impedance
4.0 Ω

(8.0 Ω)

Load Impedance
> 100Ω
6N Crystal Copper φ.035mm/CRYO
5N Silver φ 0.035mm/CRYO

Cantilever Material
Boron solid φ 0.30mm
Stylus
Micro-Ridge2 Solid Diamond □ 0.1mm
Contact Radius, Life Time
3μm×60μm, 2000Hour/2.0gm
Output Terminals
φ1.25mm gold plated 〔 EIA 〕
Terminal Board
Glass Epoxy Plate
Dimensions
W (Width) : 16.3mm
L (Length) Body / with Terminals : 19.6mm / 23.5mm
H (Height) : 15.5mm
Net Weight
5.0gm
R100 FUJI Mono
Technical Data
Type
Monaural Moving Coil (Dynamic)
"REAL STEREO" Generator System
Cryogenic Treatment
Temperature: -196 ℃ (-320°F)
Output Voltage
1.0mV (5.0cm/sec, 1kHz)
Frequency Response
±1dB
10 Hz - 25 kHz
20 Hz - 18 kHz
Recommended Tracking Force
2.5gm 〔20゜C-25゜C〕
Tracking Force Range
2.0gm - 3.5gm
Trackablity
> 60μm

| | |
| --- | --- |
| EQ Compliance | horizontal |
| | vertical |

12×10-6cm/dyne
12×10-6cm/dyne
Internal Impedance
10Ω
Load Impedance
> 100Ω

| | |
| --- | --- |
| Coil Wire | C type |
| | X type |
| | S type |
| | G type |

6N OFCopper φ 0.03mm
6N Crystal Copper φ.035mm/CRYO
5N Silver φ 0.035mm/CRYO
24 Gold φ0.035mm/CRYO

Cantilever Material
AlMg5 tube φ0.45/φ0.3mm
Stylus
Spherical Solid Diamond □0.1mm
Contact Radius, Life Time
1.0 mil , 1000hour/2.5gm
Output Terminals
φ1.25mm gold plated 〔 EIA 〕
Terminal Board
Glass Epoxy Plate
Dimensions
W (Width) : 16.3mm
L (Length) Body / with Terminals : 19.6mm / 23.5mm
H (Height) : 15.5mm
Net Weight
5.0gm
9.0gm(SB)
7.7gm(TB)